Archives For Business Server Cashflow
Can someone please invent a refrigerator with a built in motion detector? I find it super annoying when you put your groceries into the fridge and it starts beeping because the door is open. They should have a motion detector and not beep as long someone is moving in front of it. Should be pretty easy and cheap to build.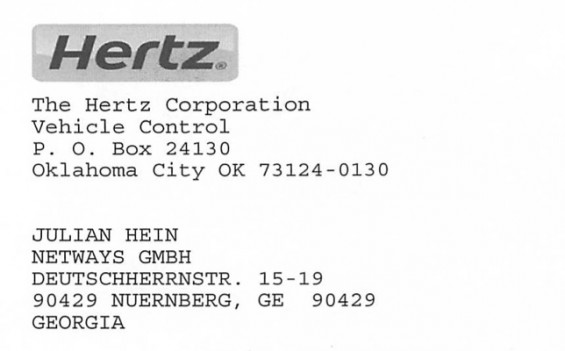 Auszug aus meiner Mail an Hertz:
(…)
Meine Erfahrungen in den USA waren eh nicht besonders gut. Ich musste
einmal mehrere Tage hintereinander immer wieder bei der Hotline anrufen um
ein überfälliges Ticket zu bezahlen und bin jedes mal so lange
weiterverbunden worden, bis ich am Ende auf der privaten Mailbox eines
Mitarbeiters gelandet bin oder das Telefonsystem einfach aufgelegt hatte.
Insgesamt habe ich vermutlich – ohne jegliche Übertreibung – etwa 6
Stunden am Telefon verbracht. Natürlich war das Ticket nur überfällig,
weil USA die Briefe, obwohl ich einen laufenden Mietvertrag in LA hatte,
immer wieder an meine Büroadresse in Deutschland geschickt hat und die
dort erst Wochen später ankamen. Womöglich, weil die nicht an Nürnberg,
Germany, sondern Nürnberg, Georgia adressiert waren (anbei finden Sie zu
Ihrer Belustigung ein Beispiel). Am Ende bin ich wegen der Inkompetenz
Ihrer Kollegen in den USA auf einer no-rent Liste gelandet und der zu
zahlende Betrag hatte sich von etwa $50 auf fast $300 aufsummiert. Ich war
so verzweifelt, dass ich sogar bei der deutschen Hotline angerufen habe,
in der Hoffnung jemanden zu finden, der mir helfen kann. In DE war man
zwar sehr bemüht, konnte aber wohl nicht auf die Systeme in den USA
zugreifen. Natürlich hätte man mich perfekt auf meiner US Telefonnummer
oder per eMail erreichen können, die sind nämlich in meinem Profil
hinterlegt und werden ja auch regelmässig von Ihnen für
Marketingmassnahmen genutzt. Dass man mich nicht in Nürnberg (egal ob
Germany oder Georgia) erreicht, während ich mit einem Ihrer Autos in LA
umherfahre hätte eigentlich einem Fünfjährigen auffallen müssen.
(…)
Wenn Kaffee bitter schmeckt (SZ):
Zuerst bringt es den Bauern überhaupt nichts:
Doch das System ist nach Einschätzung von Kritikern enorm ineffizient. Der US-Ökonom Wydick fand in einem Experiment heraus, dass der durchschnittliche US-Kaffeekonsument ganze 50 Cent mehr für eine Tasse Fairtrade-Kaffee ausgeben würde. "Doch selbst im best-case-scenario für Fairtrade, bei niedrigen Weltmarktpreisen, bekam der Kaffee-Bauer gerade einmal einen Drittel-Cent davon ab."
Und dann führt es auch noch zu schlechterer Qualität des Produkts:
(…) bietet Fairtrade einen Anreiz, vor allem den schlechten Teil der Ernte ins System zu speisen. Denn Fairtrade nimmt in der Regel nicht alles ab – ein Teil wandert auf den freien Markt. Colleen Haight von der San Jose State University beschreibt das Problem an einem einfachen Beispiel: Ein Bauer hat zwei Säcke mit Bohnen, von denen Fairtrade nur einen abnimmt. Für Sack A (gute Qualität) bekommt er auf dem freien Markt 1,70 Dollar pro Pfund, für Sack B (schlechtere Qualität) nur 1,20 Dollar. Der Anreiz ist offensichtlich: Der gute Sack wird für 1,70 Dollar verkauft. Der schlechte geht zu Fairtrade, wo man 1,40 Dollar bekommt.
Die einzigen, die von davon profitieren, sind die Anbieter der Zertifizierungssysteme und letztendlich der Handel, der mit dem Fairtrade-Argument einen überproportional hohen Mehrpreis verlangen kann. Analog zu den meisten Bio-Lebensmitteln in den Supermärkten. Die kosten normalerweise nur etwa einen Cent mehr als das normale Produkt, aber der Handel hat ein hervorragendes Instrument zur Preisdifferenzierung. Er kann dadurch das gleiche Lebensmittel zu zwei verschiedenen Preisen verkaufen, je nachdem ob der Käufer knausrig ist oder gerne etwas mehr für Nahrungsmittel springen lässt.
What Rock Stars In High Heels Have To Do With The Future Of Your Brand – A Lesson From The KISS School Of Business (Forbes):
And if your brand's identity can stand on its own, no one will ever be able to beat you at it. There's never going to be a band that can say, "We're more like Kiss than Kiss is!" They might be louder, faster, flashier, younger, sexier, etc., but it doesn't matter—they'll never beat Kiss at being themselves.
Now You Can Buy A Bulletproof Blanket Specifically Made For Kids To Use During School Shootings
It's come to this. We've now had so many mass shootings that entrepreneurs see space in the market for a bulletproof blanket, made specifically to shield small children from gunfire.
The Bodyguard Blanket, made by a company called ProTecht, is a bulletproof 5/16-inch pad, made from the same materials used by our military, except it's for kids. They even come in different sizes.
If mass shootings weren't such an integrated part of our culture, you'd think this was an SNL skit or an Onion article. Kids are being gunned down in their 1st grade classrooms, but what can we do? No we're not talking about gun laws, just arm your children with these bulletproof shields, you'll sleep easier at night.
(via)
German grocery store just raised the bar for weird local commercials
Liechtenstein, a German musician and entertainer, lends his deep voice to a dance-worthy slow jam while bathing in a tub filled with milk and cereal and pretending to smoke a hotdog like a cigar. I can only vaguely understand what he's singing, but I can't take my eyes off the screen. The bar has been raised, American grocers. I'll be awaiting your strange and wonderful response.